The resources on this site were created by and for the "Space and Cyberspace" GIS Workshop, held at Dharma Drum Institute of Liberal Arts 法鼓文理學院, Taiwan, in June 2017.
"Space and Cyberspace" was designed to familiarize participants with online and offline GIS technologies. These skills were immediately applied during the fieldwork, in which we worked towards an atlas of religious sites in the Jinshan and Shimen districts of northern Taiwan.
This workshop is part of the project "From the Ground Up - Buddhism and East Asian Religions" — Cluster 1.2: Religion and Technology.
主辦單位 Organizer: 法鼓學校財團法人法鼓文理學院 Dharma Drum Institute of Liberal Arts
贊助單位 Sponsors: The Social Sciences and Humanities Research Council of Canada & Dharma Drum Institute of Liberal Arts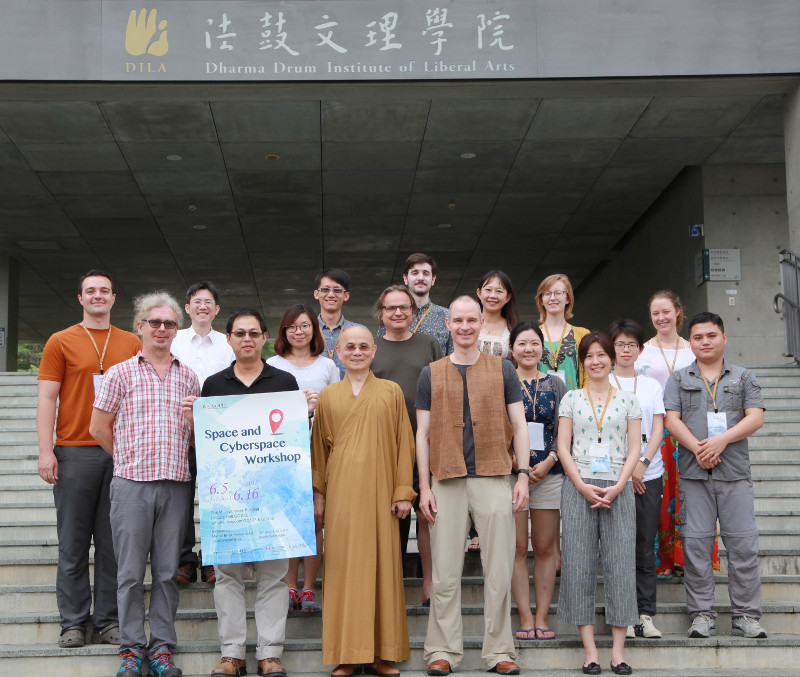 Team 1
Christoph Anderl (Ghent University)
Suzanne Burdorf (Ghent University)
Lien Fan Shen (University of Utah)
Weiguang Yan 闫伟光 (Capital Normal University 首都师范大学)
Team 2
Kevin Buckelew (Columbia University)
Peiying Lin 林佩瑩 (Fu Jen Catholic University 輔仁大學)
Kelsey Seymour (University of Pennsylvania)
Jinhu Wu (University of Arizona)
Team 3
Pi-chun Chang 張碧君 (National Taiwan Normal University 國立臺灣師範大學)
Eng Keat William Chong (Independent Scholar)
Xinlu Li 李昕璐 (Duke Kunshan University 昆山杜克大学)
Travis Travis (Temple University)
Instructors
Marcus Bingenheimer 馬德偉 (Temple University)
Jenjou Hung 洪振洲 (Dharma Drum Institute of Liberal Arts 法鼓文理學院)
Oliver Streiter 奧利華 (National University of Kaohsiung 國立高雄大學)
Simon Wiles 魏希明 (Stanford University)